Professional Mattress Sanitation Across Clapham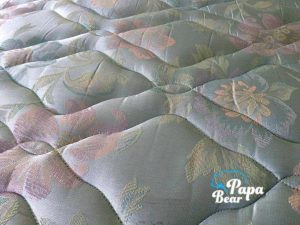 Mattresses are very important for our well-being, we spend a third of our lifetime sleeping on them and they have to be both comfortable and sanitized. That is why we offer an impeccable, high-tech mattress cleaning service, using eco-friendly, allergen-free solutions. With a practice-tested technique, our cleaning experts are well aware of the various types of mattresses and how to completely remove all types of stains and leave your mattress fresh and clean.
To add to that, our mattress cleaning service can clean all types of stains such as food and drink stains, blood, urine, lipstick, sweat and much more.
Papa Bear Mattress Cleaning is Ready to Freshen Your Bedroom, Anywhere in Clapham SW4
Feel free to call us 24/7 at 020 3404 0292 for a free quotation or a consultation. We are able to dispatch a cleaning team on the same day if one is available. You can combine your mattress cleaning with any of our services and receive a discount. Fully insured, trained and diligent staff is ready to fulfill your cleaning needs. Call us today!